RIDEX batteries are powerful and reliable, high-quality and long-lasting. They operate efficiently even under extreme loads and withstand any weather conditions. The range of RIDEX batteries will satisfy even the most demanding customers. You're sure to find the right battery for your city car, sports car, or truck.
Choose
Optimum
Energy
Extra Power
RIDEX Optimum —
simple and reliable
"Ca/Ca" calcium batteries are the most common. They are low-budget and suitable for cars without a Start-Stop system, as well as for cars without additional electrical equipment that operates when the engine is switched off. When you install a new calcium battery, you can just forget about it for almost its entire lifespan. The only maintenance required is periodic recharging. The components have low self-discharge, are suitable for use in the urban cycle and function flawlessly throughout their entire lifespan.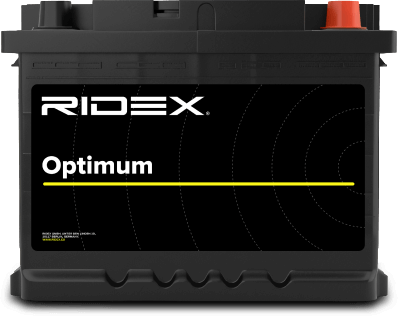 Meet high German quality standards.
No maintenance required. Calcium reduces the electrolysis of water, so little liquid evaporates.

The technology used in manufacturing the plates increases their strength and thus protection from vibration.

Resistant to corrosion and mechanical impacts.

The plates are tolerant to overcharging, as calcium helps them withstand a voltage of up to 15V.

Low self-discharge rate.

Sealed and leak-proof.
Shop now

RIDEX Energy EFB Technology —
advanced and high-performance
Wet-cell lead-acid batteries. High performance. EFB technology allows batteries to be recharged using regenerative energy. They meet all consumer requirements and are manufactured at plants in Europe according to strict quality standards.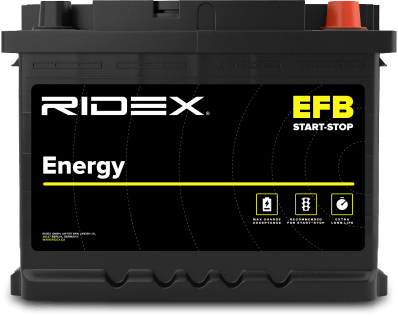 State-of-the-art technologies prevent electrolyte stratification.

Suitable for cars with entry-level Start-Stop systems and above-average power consumption.

Long lifespan: twice as long as that of conventional RIDEX Optimum batteries.

Adapted to severe environmental conditions: from -50 to +50°C.

Increased vibration resistance.

Tolerant to undercharging and deep discharge.
RIDEX Extra Power AGM Technology —
the best of the best
Lead-acid batteries with absorbent glass mat. Developed according to the most advanced technology and used in cars with high energy consumption. Thanks to AGM technology, they are compatible with advanced Start-Stop systems, which allow for quick battery recharge using regenerative braking energy. These components provide maximum power for a long period of time and are maintenance-free.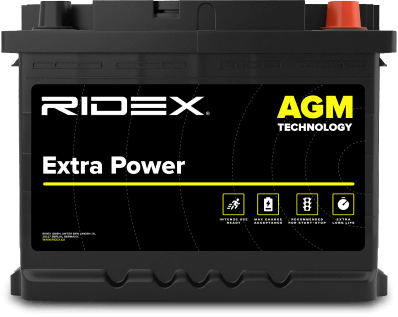 3-year warranty.

Meet the car manufacturers' requirements for starting ability and reserve capacity.

Designed for modern cars with a large number of energy-intensive electrical devices and Start-Stop technology.

The robust design ensures stable operation at high temperatures and reliable starting at low temperatures.

Quick charge: in just a few hours.

The vibration resistance level is higher than that of standard RIDEX Optimum batteries.

Ensure stable engine start-up.

Last 3 times longer than the standard RIDEX Optimum batteries.

Corrosion resistant.

No maintenance required.

Sealed.